I personally handle cases in:
Anne Arundel County
Baltimore County
Carroll County
Howard County
Worcester County
Eastern Shore Representation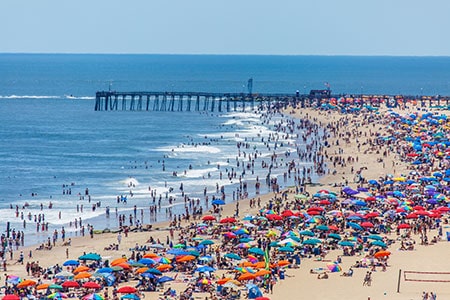 Once you cross the eastbound lanes of the Chesapeake Bay Bridge life is different, so too is the legal profession and the administration of justice. The nine counties comprising the Eastern Shore are Caroline, Cecil, Dorchester, Kent, Queen Anne's, Somerset, Talbot, Wicomico, and Worcester counties.
Having moved just outside Ocean City in 2017, I regularly practice in Worcester County (Ocean City and Snow Hill) handling family law cases (divorce and child custody cases), criminal cases, DUI/DWI, and serious traffic cases. I share satellite office space in and around Ocean City, Maryland.
Our main office and apartment building is in Catonsville, Maryland (Baltimore County) affording us the opportunity to handle cases and meet with clients from where I started so long ago. In addition to doing trial work, I am also a court appointed mediator, settlement facilitator, co-parenting specialist, and Best Interest Attorney for minor children stuck in the middle of child custody litigation.
I will also represent clients in Wicomico County and have strong co-counsel relationships for the other counties east of the bay bridge. This goes back to the concept of knowing your jurisdiction and knowing your judge. Fortunately, I am friends with, and have professional relationships with attorneys and judges on the Eastern Shore that I have known for many years. If I don't know what is likely to happen in each situation, I will find out, and respond accordingly.
If you are on the Ocean City beach next summer, keep a look out for the plane flying the … "MiketheLawyer.com" banner!
Co-Counsel Arrangements
There are many cases where I work with other attorneys in a co-counsel capacity either in the above jurisdictions or in the ones listed below. Here are some sample clauses for those situations.
You have agreed to the joint representation of my firm with Michael A. Mastracci, Esquire and the Law Office of Michael A. Mastracci, LLC. We will be closely working together and shall be jointly responsible for the handling of your case. We shall divide roles and tasks according to what we believe are in your best interests. We have already discussed what we each bring to the table and we both believe that our professional relationship would serve you better than either one of us could do independently. This agreement will also demonstrate how you will not be double billed for having two law firms. Your monthly billing statements, if applicable, will come directly from our firm (only) and will include Mr. Mastracci's time and billing, and all statements will detail the work performed and the person or persons performing said work, but all payments will be made only to our firm.
Client acknowledges that Attorney may consult with other legal professionals regarding client's case as Attorney deems necessary. Client further authorizes Attorney to share legal fees with co-counsel and/or with any other legal professionals that Attorney consults with or who may have any claim of quantum meruit related to Client's matter. Any fee-splitting by Attorney shall be at Attorney's discretion and shall not impact or increase the amount billed to client.
It's All About Relationships
The lawyers that I choose to work with all bring special skillsets and personality traits that I feel are appropriate for a particular client and his/her unique situation. In some ways, I am a professional match maker. I only work with people that I like, trust, and respect and who are known for high achievement and successful outcomes. My selection of co-counsel, with client approval, of course, is a reflection on me and I take joint responsibility and involvement on all co-counsel arrangements. You truly get two for the price of one in many instances and the ability to bounce ideas around between co-counsel is invaluable at times. More importantly, I want to make sure that if I am not well known in a particular jurisdiction, that my co-counsel is "local". It makes such a difference.
Locations where I practice with local co-counsel:
Baltimore City
Cecil County
Harford County
Kent County
Talbot County
Montgomery County
Prince George's County
Wicomico County