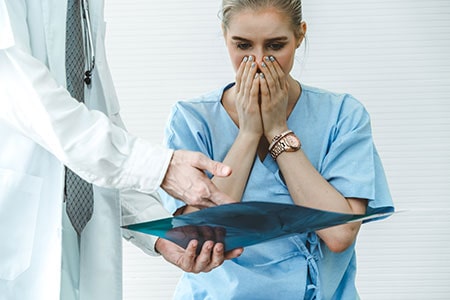 If you or a loved one believe you may have been injured by your healthcare system, contact us today. We will arrange a meeting with attorneys and medical experts who have the experience and medical expertise in handling these types of malpractice suits. We can assist by quickly determining if you should pursue your case.
Medical Negligence
Typical medical malpractice cases may involve:
Birth Injuries
Cerebral Palsy
Erb's Palsy
Wrong Diagnosis
Wrong Site Surgery
Prescription Errors
Surgical Errors
Nursing Home Abuse
Nursing Malpractice
Negligent Obstetrical Care
Doctor Mistakes
Hospital Errors
Failure to Diagnose
What Is Medical Malpractice?
A medical malpractice lawsuit simply means that a person believes it was a medical practitioner's fault for their injury. Their injury may or may not have occurred at a medical facility and may have taken some time to manifest itself.
Medical malpractice is not limited to deaths due to medical error, such as botched surgeries or bad working conditions. In fact, most medical mistakes occur when a doctor or some health practitioner absentmindedly prescribes the wrong medicine, does not check into a patient's medical background thoroughly, or fails to notice an obvious medical problem that could eventually turn deadly or seriously injurious.
Doctor mistakes can occur any time a physician fails to follow proper protocol; to act with care, skill, and prudence; and or to protect patients from additional harm. If you or a loved one has suffered illness or injury because of doctor mistakes, you may wish to learn more about your legal rights and options.
Sometimes a medical malpractice problem won't manifest for a while after a medical procedure, making it difficult to prove it was medical malpractice. However, attorneys often will consult with medical professionals to see if your injury is the cause of medical malpractice problems. This process often involves the obtaining and review of medical records and other pertinent information. If it is determined that one has a good case, the next step is usually to give written notice of the claim to the healthcare providers that are believed to have created the medical malpractice problem.
Given the complexity of the medical and legal issues, one who suspects that they may have been the victim of medical malpractice should consult a qualified attorney who can, along with the assistance of medical professionals, analyze the merits of one's claim.
Medical malpractice lawsuits are settled out of court ninety six percent of the time. Medical malpractice lawsuits that enter the court system can be complex and costly. Out-of-court settlements can often result in fair compensation awards for victims in medical malpractice lawsuits. Most healthcare providers have malpractice insurance that protects them from financial ruin in medical malpractice lawsuits.
Insurance companies are often involved in the settlement proceedings. Some states have arbitration panels designed to resolve disputes between negligent doctors and their patients. This can result in decreased litigation time and cost, while still providing victims with an effective means to receive fair compensation.
While attorney Michael A. Mastracci does not personally litigate medical negligence (math and science never being of interest) the office has personal and professional relationships with medical malpractice attorneys and law firms, qualified experts, healthcare practitioners, members of The Health Arbitration Claims Board, The Maryland Physicians Board, and numerous respected Medical Malpractice Arbitrators. Basically, whatever your medical questions and concerns are, I have the contacts to put you in in the right direction so that you can make informed decisions moving forward.
Our Services
We have teamed up with leading Baltimore law firms dedicated to advocating for the rights of personal injury victims.
Real help for clients in Maryland, along the East Coast and across the country.
For a free medical malpractice consultation, contact attorney Michael A. Mastracci 410-869-3400
Clients are only responsible for fees and expenses when we win your case. If there is no recovery, you are not responsible for reimbursing our time, costs or expenses. When there is a financial recovery whether by trial or settlement the associated costs and expenses are deducted from the recovery. All terms and conditions of representation are be clearly spelled out in a written fee agreement once we agree to handle your case.