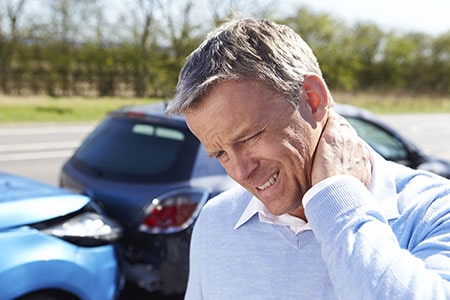 There are a few things that you can do to help yourself and your lawyer if you are involved in a car crash.
There are several photographs that you can take immediately following the collision that can later help your lawyer pursue a claim. Take pictures of both vehicles to document the extent of the impact. Take interior pictures if the vehicle if there is damage there. Photograph the other driver's license and license plate in case it becomes difficult to identify the defendant later. Take pictures of the location. In a "he said/she said" situation the position of the vehicles or any debris or tire tracks may make the difference.
Take the name and phone number of any witness willing to give it to you. If you are near a store or a home, look for cameras or other signs that the incident may have been videotaped. A lot of doorbells are now equipped with cameras.
When you get home, take pictures of any bruising, or cuts or scrapes that you might have. Pictures of objective proof of injury will go a long way in settling your case. If you are injured, seek medical attention right away. Often, gaps in treatment are used as evidence that someone was not injured as they are later alleging.
When selecting a lawyer, you want a lawyer who takes cases to court. Cases settle throughout the process for many different reasons but beware of the lawyer who settles everything. Often verdicts are better than settlement offers. And often settlement offers improve significantly the deeper you get into litigation.
No matter what we do for our clients, we build our cases from a solid record of success, demanding fair results from wrongdoers who have damaged our clients' property or injured their health or well-being. We are committed to giving our clients the representation they deserve, and we don't like insurance companies!
If you are unable to come to the office, we will meet with you in your home or in the hospital.
Contact us for a free, no obligation consultation regarding any injury claim. We can help:
Collection of personal injury protection (P.I.P.) benefits for your lost wages and for payment of your medical bills.
Find qualified health care providers to treat your injuries, if you necessary.
Obtain an immediate rental car.
Get your car repaired.
Handle all telephone calls and negotiations with insurance adjusters.
Handle all the hassles and paperwork.
Get you everything you deserve for pain and suffering.
Get you the financial compensation that you deserve.
Consult Your Lawyer Promptly
The sooner your lawyer is brought into the matter the better he or she can advise you of your rights and take the required steps before you lose the opportunity to adequately preserve your claim. Your lawyer can obtain statements from the witnesses while their memories are fresh and assure that the true facts are preserved. Rest assured; the insurance company will be working against you from day one. Protect yourself.