Expensive
Maybe, but can you afford the cost of no representation or bad representation?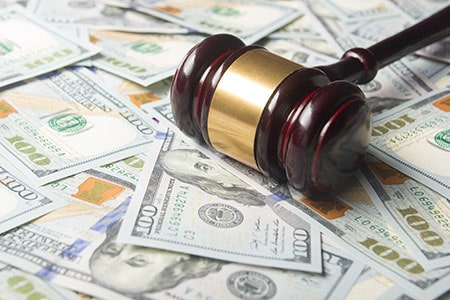 The legal system is an extremely complicated web of regulations, statutes and complex case law. Navigating it without the help of a skilled professional can actually lead to an even bigger mess. Having said that, you certainly have the right to represent yourself. Often, you really cannot afford not to have quality representation.
What is the Basis for a Legal Fee? We've all heard the saying "time is money." In the simplest sense of the phrase, this is quite true for lawyers as well. Abraham Lincoln once said, "A lawyer's time and advice is his stock and trade."
How are fees computed? You should always discuss estimated overall costs during the initial consultation. Even though we may not be able to provide you with the exact costs for your case, we can provide you with an estimate based on past experience. We suggest that during the initial consultation, you be as forthright as possible with us about the scope of your case so that we can provide you with as close to accurate estimate of fees possible and so that there are no surprises later. It is important that you fully understand all the money issues relative to ongoing representation.
The sooner your lawyer is brought into the matter, the better he or she can advise you and protect your rights.
Understanding Lawyer Billing Practices
THIS PAGE IS OFFERED FOR REVIEW PRIOR TO ENTERING INTO A FAMILY LAW LEGAL SERVICES FEE AGREEMENT WITH OUR OFFICE. IT IS FOR THE PURPOSE OF ENSURING THAT PROSPECTIVE CLIENTS HAVE AN ACCURATE UNDERSTANDING OF HOW LEGAL FEES ARE GENERALLY CALCULATED AND BILLED IN THE LEGAL PROFESSION. THIS DOCUMENT IS FOR INFORMATIONAL PURPOSES ONLY AND IS NOT IN AN AGREEMENT FOR SERVICES TO BE PERFORMED ON YOUR BEHALF. AFTER YOUR CONSULTATION, LEGAL STRATEGY SESSION AND FACTUAL AND LEGAL REVIEW, AND HAVING YOUR QUESTIONS ANSWERED, YOU MAY BE OFFERED A BINDNG CONTRACT FOR LEGAL SERVICES THAT COULD INVOLVE A STRAIGHT HOURLY BILLING METHOD, A FLAT FEE FIXED RATE OR A BLENDED FEE AGREEEMNT WITH BOTH FLAT FEE AND HOURLY RATE COMPONENTS.
LawPay Pay Later – Provided by Mike The Lawyer
Check out our video detailing the LawPay Pay Later service, provided by Mike the Lawyer!
Some Common Questions:
How much could all this cost? Will I be billed for every phone call or email? What if I have questions but can't afford to call? What do I need upfront, and will that be enough? What if the other side is driving up my legal costs? Do I have any control over this process and how much money I will ultimately spend? These are all fair questions, and they deserve honest and straight forward answers. However, the straight and honest answer is that "It depends."
It should also be noted that disputes regarding payment of fees are among the primary causes of disagreements between attorneys and clients. It is therefore the intention of our fee agreements to set forth in detail the services that our attorney(s) provide and the method by which the fees are charged and calculated for those services.
It is generally very difficult to estimate, with accuracy, the amount of time that will be spent on cases involving separation, divorce, and child custody and child access issues. It should be noted that when cases are billed on an hourly basis there is an initial deposit/retainer (the amount will vary based on several factors discussed) and additional replenishment(s) of the retainer will be required if/when the hourly billing exceeds the amount on retainer.
Especially when it comes to paying by the hour, time is money. When we handle cases on an hourly basis, we charge between $350.00 to $410.00 per hour depending on the facts and circumstances of each case, including whether contested litigation is likely and/or is already under way, the degree of acrimony between the parties and the reputation and practices of opposing counsel, if any. Any estimates provided to you, or any such future estimates as matters develop and progress, are based on information that you supply to attorney and events that may or may not happen since the initial attorney-client meeting(s). Situations that are out of your control and out of your attorney's control sometimes develop quickly and unexpectedly.
Accordingly, any estimate as to the total costs and attorney fees, especially when handled strictly on an hourly basis, is really the attorney's best guess. Any such estimates are only opinions and are based on the case history as presented by client and the results that the client is attempting to achieve. Any estimates are only advisory and are not binding. Generally, there are several factors considered in estimating an attorney's fees; those factors may include, but are not limited to:
The number of, and duration of, extended telephone calls originated by the client, as attorneys generally bill for all aspects of your case, including speaking to you by telephone and responding to email. In fact, this can often be one of the larger expenditures of time and money throughout the length of the case.
The nature of opposing counsel and/or the opposing party. As should be recognized, some attorneys and some parties are congenial and easy to work with by nature; others are far more adversarial and tend to cause the otherwise unnecessary inflated expenditure of time and money.
Whether novel, unusual, or difficult issues of law are involved that may require research and/or case law review and analysis.
Whether and to what extent the given scenario may have difficult or complex factual and/or practical issues that need special attention and handling.
Whether and/or how often the attorney will need to communicate with potential witnesses and professionals such as accountants, therapists, appraisers and/or an attorney appointed for any minor child at issue.
The level of skill, training, knowledge, and years of experience of the attorney, including the attorney's familiarity with the applicable area of law.
The attorney's reputation for achieving results on behalf of clients with similar legal and factual experiences.
The attorney's knowledge of the Family Law Magistrates and/or judges in the county where the action will likely be pending.
The ability for attorney to provide individualized attention to your case and to be accessible when needed on evenings, weekends, and holidays.
The ability to offer the best and most effective approach at different phases of the case.
MORE ABOUT HOURLY BILLING:
Hourly rate attorney billing can add up quickly. All fees are deducted from a retainer when earned. Those retainers can run from as little as $3,500.00 to $10,000 or more. People often complain that lawyers "nickel and dime" clients by performing otherwise unnecessary tasks simply in pursuit of billable hours. Many do; we don't.
Attorneys will periodically, or upon reasonable request, provide the client with an itemized statement for services rendered, detailing time on a minute and hourly basis, as well as all costs incurred and the balance remaining of the retainer. It is rare for hourly based billing not to require supplemental retainers, unless of course the amount of the initial retainer is significantly high enough to last throughout the duration of the case.
Most billing is done in six (6) minute intervals and is calculated as follows:
.1 = 6 minutes .6 = 36 minutes
.2 = 12 minutes .7 = 42 minutes
.3 = 18 minutes .8 = 48 minutes
.4 = 24 minutes .9 = 54 minutes
.5 = 30 minutes 1 = 60 minutes
Often, most lawyers charge for brief and routine matters and even quick phone calls and short emails are billed in six (6) minute (.1) entries on time sheets and bills. Although our billing practices are not as rigid, at $350.00 an hour for example, it is technically $35 dollars charged for every 6 minutes of "time spent." Almost all attorneys reserve the right to suspend work on a file or terminate an "attorney-client" relationship if the fees or any expenses incurred become delinquent or if a client fails to make a required subsequent deposit(s) or payment to the attorney.
FLAT FEE AGREEMENTS:
Flat fees are used in criminal, DUI/DWI, and serious traffic cases. The cost is based on the offense, the facts and circumstances of the arrest, the Defendant's prior record, if any, and several other circumstances. You pay the fee, and you get the representation. The amount of time it takes your lawyer is irrelevant.
Very fee lawyers offer any flat fee agreements in family law matters. If they are utilized, it is typically used in pre-litigation situations and/or unbundled services.
In fixed flat fee agreements, you pay one set amount for a list of services that are specifically spelled out. In these types of emotionally charged situations it has traditionally been to the attorney's advantage to bill by the hour. In straight flat fixed fee agreements, there is no hourly billing, and you are not charged for telephone calls, emails, letters, attorney-client meetings and the like. The goal is to bring the situation to a conclusion without the need for contested litigation as quickly and efficiently as possible. Therefore, you never have to let billing and finances dictate how much time and advice you receive.
This option is often used when it is unclear how amicable or contentious the case is likely to become, such as in situations where the parties are still living in the same house and maintaining a reasonable degree of stability or where the parties have only very recently separated. This approach works well when neither party has yet retained counsel and no case has been filed in the court system. This approach is also helpful to bring finality to situations where, for example, the parties have been living separate and apart for a significant period. In addition, it is generally our practice to suggest that the other side consider using the collaborative law approach if appropriate. See: www.collaborativepractice.com for information on the collaborative law practices, protocol, procedures, objectives, and benefits to you.
These types of arrangements are generally not offered to people with cases that are already in the court system, and/or likely to result in lengthy and highly adversarial litigation. Several factors are often good indicators of the path(s) most likely to be taken and include things such as past allegations of abuse, protective order filings, hiding assets, adultery allegations, using the children as bargaining chips in settlement discussions, threats, and ultimatums and the like, including the recent past and current behaviors and reactions by and between the parties. Additionally, when one side threatens to have his or her "pit bull" lawyer go on a "scorched earth" mission.
BLENDED FIXED FEE AND REDUCED HOURLY RATE BILLING:
In our blended fixed fee and hourly rate agreements you pay one set amount for a list of services that are specifically spelled out. Not all services and tasks are covered. However, those services that are not specifically included in the flat fee portion are billed on an hourly fee basis.
This approach is illustrated by the following example:
A new divorce and child custody case is filed by husband. The parties have been separated for a while with no set schedule and each has new partners that are complicating parenting issues. Husband has an attorney. Wife is looking for an attorney and is considering our Blended Fixed and Reduced Hourly Rate Billing. The attorney on the other side is not familiar to our firm but the history between the parties suggests that the case has all the makings of becoming an ugly custody battle.
A flat fee would be paid upfront which would cover all efforts to settle the case without things having to spiral out of control.
Attorney and client agreed that client would be charged flat fees for all non-litigation representation, and/or pre-defined litigation tasks, as described in the agreement. These services would be referenced in this agreement as pre-paid – flat fee legal services and include any or all the following if deemed necessary and/or tactically advantageous in handling the client's case:
Unlimited reasonable access to attorney by phone, Zoom, email and in person/office meetings throughout the entire case (even if it turns into a high conflict case);
Weekend and evening appointments available as necessary;
Draft and/or respond to written settlement agreement(s) with opposing party and/or party's counsel;
Schedule and attend any outside of court meetings with opposing counsel and/or opposing party;
Meetings with client individually and/or with opposing party and/or counsel present;
All calls and communications with opposing party, counsel and/or any third party related to the case, including witnesses, professionals including Best Interest Attorney, if applicable;
All correspondence receipt, review and drafting;
File an Answer and/or Counter-complaint to the Plaintiff's initial pleadings that require an Answer within 30 days from the date of this agreement;
Document review of any emails or letters that client may want to send to the other party and/or related person(s);
Attend one court scheduling conference at no additional charge;
Additional tasks and services as deemed appropriate;
Our goal is to help client avoid having a need for unnecessary/contested litigation while resolving matters in a manner that is acceptable to the client.
If the case should require a more aggressive litigious approach, with formal discovery and pretrial motions becoming necessary, additional attorney fees would apply as would be further outlined the agreement. These types of matters would include court appearances other than those included in the flat fee portion of the agreement, responding to the other side's formal discovery such as requests for production of documents, interrogatories and preparing for and attending depositions and for us to send outgoing discovery which will be discussed with you in advance. If the case does not settle before or at a court ordered scheduling conference or later at a settlement conference settlement conference there would need to be a sufficient retainer for trial preparation, subsequent settlement efforts, including time spent on telephone and written communication with opposing counsel and hearing preparation with you. Hourly billing would also apply to our attending the contested court hearing.
Often small and routine tasks (like .1 entries), even if recorded, are not charged, or included, as billable time. Most lawyers do not bill .1, as every entry, no matter how small, defaults to .2. Expenses for routine postage, long distance charges for phone calls, faxes, and non-voluminous photocopies are included in all our billing practices.
About Limited Scope Representation or Unbundled Legal Services:
Unbundling, or limited scope representation, is an alternative to traditional, full-service representation. Instead of handling every task in a matter from start to finish, the lawyer handles only certain parts, and the client remains responsible for the others. It is like an à la carte menu for legal services, where: (1) clients get just the advice and services they need and therefore pay a more affordable overall fee; (2) lawyers expand their client base by reaching those who cannot afford full-service representation but have the means for some services; and (3) courts benefit from greater efficiency when otherwise self-represented litigants receive some counsel.
The good news is that I can offer you options that fit your case and your budget. I don't want to take any fees unless you completely understand the billing practices that will apply to your situation.
Co-Counsel Arrangements
There are many cases where I work with other attorneys in a co-counsel capacity. Here are some sample clauses for those situations.
You have agreed to the joint representation of my firm with Michael A. Mastracci, Esquire and the Law Office of Michael A. Mastracci, LLC. We will be closely working together and shall be jointly responsible for the handling of your case. We shall divide roles and tasks according to what we believe are in your best interests. We have already discussed what we each bring to the table and we both believe that our professional relationship would serve you better than either one of us could do independently. This agreement will also demonstrate how you will not be double billed for having two law firms. Your monthly billing statements, if applicable, will come directly from our firm (only) and will include Mr. Mastracci's time and billing, and all statements will detail the work performed and the person or persons performing said work, but all payments will be made only to our firm.
Client acknowledges that Attorney may consult with other legal professionals regarding client's case as Attorney deems necessary. Client further authorizes Attorney to share legal fees with any other legal professionals that Attorney consults with or who may have any claim of quantum meruit related to Client's matter. Any fee-splitting by Attorney shall be at Attorney's discretion and shall not impact or increase the amount billed to client.
Optional provision offered only by Attorney Mastracci:
If client desires to buy out the attorney-client hourly regular/general communications such that for a flat fee of _______ per month, deducted from the retainer, there will be no billing for attorney Mastracci and client for regular contact (responding to and propounding discovery are not included, nor are settlement meetings and preparation and/or mediation sessions and preparation and court preparation). This option is so that client can call, text or email 24/7 for regular and ongoing issues without traditional hourly billing practices. This would make Mastracci the main point of contact at a substantially reduced rate.
If this is agreeable, initial here________________.
I decline this option and prefer regularly hourly billing practices; initial here _______________.
Regardless of the terms and payment arrangements undertaken, attorney's goal is to help client avoid having to engage in unnecessary/contested litigation while resolving matters in a manner that is acceptable to the client as expeditiously and effectively as possible. The key word is "acceptable" as neither side in a family law matter will generally get all of what he or she initially requests, and client needs to recognize this from the outset.